Read this romantic arranged marriage story – An Arranged Love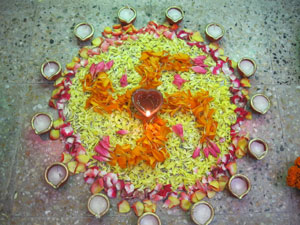 [This Love Short Story is inspired by a true love story of someone closer to my heart – My Friend & Brother]
There is nothing extraordinary in my love story except my feelings. Whenever I see my little one I remember the immense pain she bore for me… and this feeling would make me love her even more.
It was a simple arrange marriage. I was in my late twenties. My hairs were falling to my ancestors' style. My mother was most worried woman in our community,
"Meet, you must get married as soon as possible before you get completely bald else who will give his daughter to you?"
I had nothing but just to giggle at her, "Ma, you do not worry, a princess would come running all the way to marry your son."
And mom would hug me with utmost affection, "Yes, but you do need someone who can take care of you and feed you home-made food when you come from office in late night".
We met, obviously, after meeting of our families. It was a family affair. Her family and my family met. Someone, you can say a "mod" Bhabhi or Bua, offered,
"Give them some privacy… let them meet alone".
Room filled with gossips and smiles. But it was my life and I was educated enough to understand that groom and bride do have preference to marry or not marry each others. I also knew she was from business family, quite affluent family, at least much richer than my family. There was doubt in my mind,
"She is beautiful, she is rich… why would she marry me – a software engineer who is even not in US earning fortune in fixing Y2K issues?"
We were left alone. Time was ticking fast. My heart was beating faster. First time our eyes met. She was indeed the princess… princess of my dream.
But before cupid could strike, my thought struck again, "Why? Why she would? " despite I had already sensed sort of desperation from her family too to "fix" this marriage. In nervousness I fell to a well practised faux pox,
"What is your name? And do you really want to marry me?"
The princess replied,
"Mitu. Yes, I indeed has options to marry millionaire, but because I always saw Lakshmi (goddess of money) in my family but no Sarswati (goddess of wisdom), I always prefer wisdom. And you are the most qualified person so far in existing proposals".
I allowed cupid to strike me. Meet & Mitu… Mitu & Meet… what a pair… and wow, I am the most deserving… but then crowd of Bua, Bhabhi, Aunties and Sisters rushed (gate crashed) in the room. Time over. Before we could express our likings for each other, both families started complimenting,
"What a pair… Ram & Sita…"
"Wow… what a bhabhi…."
"Jiju is too cool…"
"You are really lucky, you are getting a girl as simple as cow…"
"Beti, how beautiful you are… are you happy now"
…
…
I found myself pushed away to hall where gents were sitting. Her father declared,
"Lo ji lo.., Bete ji ki haa hai..(Congrats, groom agrees for the marriage)… are beta chand ka tukada hai meri beti (dear, she is very beautiful like piece of moon)"
Everything was happening in jiffy. Next day was Varaksha (final talk to stamp the agreement of families), two days after that Sagai (engagement), a week after Tilak (reception at groom's house) and day after Tilak, The Marriage… I must confess that I also had dream to talk to the girl as a "girlfriend", to make my bachelorhood meaningful. But dates were jammed packed. Relatives already started pouring in both families. I found my dream was shattering. In a busy schedule of customs and traditions, somehow I managed her number and dialled to meet her somewhere for outing…
She picked the call and gave a matured answer, "I shall talk to father and get back to you".
I called her again after an hour.
"See, he told that anyway you both would be meeting forever after a week… thoda sabra karo.. (control yourself a bit)"
I guessed that her father was sure that his talkative daughter might reveal something that would cut this marriage at last moment.
Finally we met at our first night — "The dream comes true" night. We had honeymoon. But very soon she had to have in-laws' instructions as well. Before our married life turned battleground of saas and bahu (mother and daughter-in-law), I got an onsite opportunity and moved to Europe for a year. She was my Kajol and I was her SRK. Life was DDLJ – Vienna, Lucerne, Amsterdam, Paris… every month was so special so beautiful. Finally one day she gave me good news,
"Meet, it is second month since I had last and I feel it is a good news."
"Oh Meetu…"
I lifted her and showered my love on her without discriminating any part… my princess appeared the most beautiful woman in this universe… indeed she was.
It was the day. She was writhing in immense labour pain. I had tears in my eyes. I blamed myself to hurt my princess… my love. I held her hand in my both palms,
"Mitu, I am sorry… it is all because of me… I wish I would have not insisted for the baby".
Her other hand came to my bald head, "Meet, I can bear anything… any pain… for you… for your love… just be with me"
And there I felt a true love, perhaps much more than just reciprocating my feeling for her. I was accomplished.
__END__