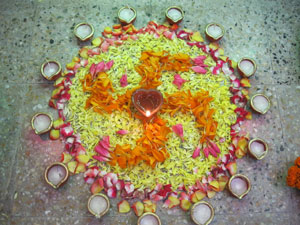 [Marriage Party – Hilarious Short Story]
This happened when we were very much new in Bangalore. We were still trying to remember the roads, offices and buildings.
We got a marriage invitation from our neighbour. His daughter was getting married after 2 weeks and he personally came to invite us. He said that reception is on Saturday so it will not be a problem for us, since Saturday is off for my husband. When my husband came from office, I told him about the invitation. We also discussed that it is on Saturday, so we will do some shopping and then go to the marriage. We checked the card for address. My husband knew the place. Next day one of our friend came, we confirmed the address and the way to the venue.
After all, it was first party for us in totally new city and we had great opportunity to become social. We both were quite excited and looking forward for the day. On Friday, despite of having lot of work, we went to market and bought a nice gift for the bride. On Saturday, we finally got ready, literally after trying 2-3 dresses. It took us more than hour to be prepared for the marriage party. I chose one among my favourite Banarasi Saris, made my husband to change 2 suits before I found something matching, and sent my husband to market last minute to buy matching hair band for my daughter.
Finally we left the house after significant delay but still had time to reach the venue much before time mentioned in invitation card. When we were sitting in the car, we realised that we left the card at home. My husband asked me to go back and bring the card. But I said, "no need, you know the venue, that is enough".
We reached the venue, enter the gate, and there was nobody!!!!!!!. No light, no guest, no host, nothing at all. We were very surprised and could not understand what was happening. We thought of calling the host but phone number was also in the card. Now, what to do? Feeling very sad, we started back to home.
All of sudden realisation stroke, marriage was on "The Saturday" BUT next week, not this week!!!!!!!!
With embarrassment and lots of laughter, we came back teasing each other.