[This short story love is selected for Love'2012 Story Writing Competition]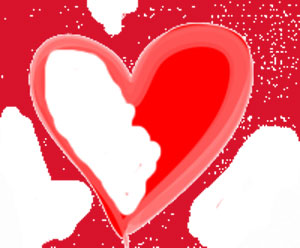 The Window hole was a little smaller than the width of her little finger, now adorned by a green emerald. Peeping through it, though not voyeuristically was her tooth-brush routine. Fifteen minutes of every morning were devoted to concentrated attempts at seeing his face before he went out of the gate in his broken yellow vespa. The window hole being the open glass of Alice through which she could escape into her wonderland and Shreya into hers.
"Shreya, get ready for college, it's getting late. I also have to stop by for servicing the car, so get ready soon" came a loud voice from the bedroom, breaking her attention.
"Oh damn! Dad always has one or the other problem attached to him like the bell of the bull!" She frowned.
"Yes yes, I know" she whispered to herself and walked away from the drawing room with lazy feet.
It had been more than a year since this regular event happened everyday in the morning. Shreya would stealthily walk into the drawing room while her mother is busy with her puja and her father with cleaning his favourite car. With a tooth-brush in her hands and an un-brushed smile, she would peep out of the blessed window hole and see Avinash Sikdar walk out of his house, balancing his vespa on his sides.
Avinash walked with a limp which she found quite amusing. His long centaurian legs attracted her more than anything else. His triquarters revealed his calf muscles flexing themselves while he walked with balancing attempts to keep his vespa from falling. His drooping eyes that never saw Shreya remained stony all the time. The nose on which his rimless glasses perched, was crafted into a coning plateau. And the chocolate-brown lips sewn together as always, smile-less yet cute made Shreya go bonkers.
She would heave with anticipation and apprehension after seeing the most awaited scene of the day. Her heart would jump with concerted efforts to plunge out of her chest. In submission to her dramatic misery, she would then walk away and get ready for her law-school.
*
"What class is this?" she turned around to ask the girl sitting beside her.
"Forensic toxicology" replied the girl without looking at her, frantically screening through the pages of K.N Redddy, Professor NLS.
Shreya unhesitating asked her the next question-
"Why are going mad with that book Palki? Do we have a test?"
This time the girl looked up from her book and with eyes as big as walnuts she muttered,
"It's a new Professor. Have heard that he is too strict. He is from the NLS." Saying this she dug her head again back to the book.
Shreya wondered in disgust who this new chap was. Anyways, she hated Toxicology classes. What better was this new good-for-nothing Professor!
She waited for the good-for-nothing chap and let Palki devour herself along with the book. For a moment her thoughts lingered back to the wisps of smoke that Avinash Sikdar would send off into the air while lighting up his burgundy cigars.
Avinash was an Engineeer by profession but he had given up working for the sole reason of being idealistic in life. He believed in, "one thing at a time" and so took up writing for the moment.
He was a healthy man of 35, extremely fair and skin like that of a rose, and yet unmarried. Rumours say that he loved a black woman Miranada, who looked like an orang-utan in the eyes of the neighbours but then again like always, beauty lies in the eyes of the beholder and perhaps he searched for someone who looked akin to Miranda who had left him years back in search of some job in Africa. Since then he spent much of his time playing violin by the evening and drying pickles and gardening by day. His house was situated on a hill top and the Brahmaputra could be seen clearly slithering down sometimes silently and gushing in bolts and blobs in times of storms and sometimes unmoved and still when the nights are too dark.
Just when Shreya was entering the room of Avinash through the doors of her imagination, a piece of chalk knocked her head and she came back to her classroom. Standing in front was the new professor. He wore a sky blue shirt and a pair of formal pants with a silver tie. He looked extremely attractive with a well defined nose. Lush brown wavy hair and tiny visible brown hair on his strong wrists. With a 5'11 stature he looked not less than a French Monsieur.
"Yes Miss, we could excuse you if you are feeling too dizzy and not in a mood to attend the class?"
"No, Sir.  I'm really sorry. I didn't mean too. It was more of an accident", replied Shreya in defence.
"Haah! Falling asleep can be accidental too."
And the whole class burst out laughing as if in mad frenzy.
The professor after a few min started banging the duster on the table to stop the laughter.
Shreya kept standing at one corner in embarrassment and kept looking at the professor. His face didn't let her leave staring at him. No thoughts of Avinash took over her at that moment.
Sit down Miss.
And the class continued.
*
Who was that professor, Palki?
"Its  Professor Nagesh Dastidar, double M.Sc King's College London and Phd Newcastle"
"Oh Goodness! I was so embarrassed"
Palki still had her head buried deep down her book. Her long hair covering almost the two sides of the book and her voice coming out in whispers as if murmuring and trying to by-heart words and dates. It made Shreya feel sick, to see her with the book all the time.
"He's quite a nice fella and handsome too?" Palki spoke for the first time
"Hmmmm…" Shreya agreed, drifting into an open eyed dream where she was walking between two figures by her side and both of them sprinkling rose petals over her so that she walked blind on the road not known, she didn't know where she was going.
From that open eyed dream to reality when she travelled back home, she kept her bag on the chair near the corner of the bed, against the blue background of her walls. Shreya loved her walls for the sole reason that she had heard the common maid talk about Avinash's place being painted blue. And then she would look out of the window, removing the netted curtain and see the vespa in the courtyard. That in-animate dump of metal itself filled in her all emotions pouring them over her soul…her love for Avinash. But she knew as she always did that he couldn't love her back.
Somewhere in the past when Shreya then 18, had committed the courageous act of proposing a 35 year old man for love; receiving "No" as an answer came devastatingly on her. For days she devoured herself on tears and chocolates alike. But then again like all teenage love she recovered. Yet a sense of reticent love still lingered and that made her every day peep out of the window and look at Avinash while he got ready for the day and later when she heard the horn of the vespa when he came back home.
Her teenage instincts still made her believe that Love would come someday and so would Avinash. Never did she know that it would surely come but with several veils worn over.
*
After saying her prayers, Shreya sat down on the table, stretched the chair and opened up her laptop. As usual Mr. Mystique was online. Mr.Mystique was the regular reader of the poems she kept posting online. She chatted for hours and hours till 2to 3 at night, of lives, love, poetry, writers, black magic, tarot readers, magic potions, lust, sex, dirty talks, etc etc.
And this went on everyday…
Next day she left for the classes, after the regular voyeur business through the window. At the college, it was again Dr. Nagesh haunting her through his jet black pupil. His lush brown hair hanging down on his face till his nose. At once Shreya's heart jumped. Her belly gave a jerk and she felt like closing in her loins. She sensed desperation in herself.
Back home she kept wondering why she had felt so much drawn to her professor. For a change she didn't remove the curtain today and took up a toxicology book to read about different varieties of snake venoms. The laptop lay on her sides untouched.
*
"What causes Minamata disease?" asked Professor Nagesh
Shreya's hands shoot up into the air and everyone by surprise turned their heads to stare at her.
"Yes Miss…."
"….It's Shreya Sir. Shreya Gupta"
"Yes Miss Shreya Gupta, enlighten us with the answer."
"It's Mercury Sir"
"Absolutely"
"But sir, I wanted to know about the process…"
"…Meet me in my office after class"
Saying that Professor Nagesh left.
Shreya had seen a different glint in his eyes today. It was as if he was inviting her for a ball in his office. She liked him. But she liked Avinash too…no, she loved Avinash. Then why was she running behind Professor Nagesh. Her head was going haywire.
She entered the office room.
Professor Nagesh was sitting right in front of her in an arm chair.
"Come sit"
"Sir, the mercury induced proce…"
"Let's go for dinner together?" Professor Nagesh cut her across.
"Whoa…?!"
"Yes I am serious. Would you mind catching up for dinner tonight?"
"OH thank you sir…I shall…Well…Okay…yes" she couldn't help answering in affirmative.
She didn't know why she was doing this but the truth was, today she not only looked horrible and she had missed her session with Mr. Mystique also.
At the dinner table Mr. Nagesh kept smiling looking at her embarrassed face.
She kept stealing glances as he explained about his various culinary skills and how going to gym was his top most priority. The more he talked, the more she came closer to his mind. Somehow he was overpowering her, a Lion over a timid deer. She could all realize it.
Later he dropped her back home. She got down, turned to look at Avinash's window which was still lit and then made her way back home.
Everything that the evening was made of, crossed her mind as she lay flat on her cushions—the pine-appled  mojito, the shrill prawns and the flowers now held close to her chest.
No, it wasn't love at all…what would happen to her feelings for Avinash. She couldn't let them get destroyed for someone else. And what about Mr. Mystique who loved her so dearly even without seeing her.
*
One night while chatting with Mr. Mystique over the net, suddenly a question popped up on the screen?
"Don't you ever wish to see me?"
"Yes I do…." Shreya hesitated…. "but then again I feel you would be offended if I ask you to do so"
"Oh Common, I guess you have loved me beyond your eyes" popped another one
"Get Lost J" and she giggled like one of those emoticons.
"Ok, I shall send you my pic by tomorrow morning"
"And I'll do the same" and pressed ENTER.
~
Next morning when she sat in front of the computer to go through her notes she remembered about his picture. She opened her profile and searched for a new mail from Mr. Mystique. It wasn't there. But she had already done her job. She had sent her picture exactly at 8:00 am in the morning and the man sitting in the airport with his laptop on his knees nearly fell off his chair.
Doing this, she left for college. She took her usual seat and waited for Professor Nagesh to enter. After a while a woman in black whom Shreya had never seen entered with a loud banging gruelling voice, "I am your substitute for professor Nagesh has gone back to Kolkata. His sabbatical henceforth has ended. And I will be here till we get ourselves another toxicology expert."
Shreya's heart fell like a ball through the sand. The more she tried it to put it at its place , the more it slipped off her hands. Icy tears of the wintry December made her shudder that even once Nagesh didn't mention it to her that he was going to leave, not even over dinner. She was angry but was left much more helpless.
Later that night she switched on the computer quite early. Sitting next to the window and seeing Avinash wearing a Navy blue shirt and stripped pyjamas, her heart gave a leap. She wondered if he would ever love her. But then again what's the point of waiting when someone loves you so much even without seeing you. Nagesh as well as Mr. Mystique were now all over her mind and even when she tried hard to forget Avinash Sikdar and his vespa, she somehow couldn't let it evaporate from her mind completely. But fate is after all fate and Shreya believed in it as much she believed in love and so she handed her heart over to the unknown lover.
Her profile had still not received Mr. Mytique's picture. Instead there was a number written on top of the mail—098675***2 call me!
Shreya immediately picked up her cell and dialled the numbers. At first no one picked up the call but the second call was answered…..by a voice she knew so much.
"Yes Shreya it's me."
"Is it really You"
"Yes Shreya, it's me"
She couldn't take all these anymore. She wept with tears like that of petals of a fallen rose. She cried in desperation. She wanted him by her side and wanted to be loved like never before.
After four days of talking over phone, it was decided that Shreya would go to visit Mr. Mystique in Kolkata.
At first her mother made a hue and cry that was unimaginable as if her daughter was allowing herself to be raped but after endless conversations she and her dad agreed that she would go.
*
Her socks were making her feel uncomfortable and in anticipation she was trying to adjust her panties. She was wearing a finnish gown and stilettos revealing her anklets, danglers, beads and a bun. The airport was full of people and she was shivering. Her body was letting out involuntary jerks while she sat on the flight. The entire journey was filled with anxiety and she couldn't move a limb.
At last when she reached the airport her cell blinked, "Your luggage is on the belt number one"
"Thanks Nagesh. I mean Sir"
Shreya got the bus and ran towards belt number 1. She collected her luggage and was about to walk towards the arrival gate when she saw him.
Nagesh a.k.a Mr. Mystique lay in front of her smiling. He was wearing the same blue shirt (blue was his favourite colour, he had told Shreya over the net as Mr. Mystique), a 5'11 figure, best in all senses and handsome in a way anyone would feign falling to be caught in his arms.
Shreya stopped midway. Nagesh kept waving, signalling her to walk towards him but she had already frozen. Nagesh came forward and held her hands.
"What's wrong with you?"
"Nothing" Shreya blushed.
After attempts of stepping over each other feet out of delight and shame, Shreya got into the back seat of the Ikon. Nagesh took the seat beside her and asked the driver to push off to Barrack-pore. During the journey Nagesh kept knocking her knees lightly and whenever she looked back, he smiled.
"Stop doing that!" she couldn't help giggling
"Why should I?" and he started doing again.
After an hour they reached their destination. The house was situated near a lake. It was painted white and with a three storied structure it gave a colonial appearance.
Nagesh insisted on carrying the luggage for her. Asking her to walk in front Nagesh carried the luggage till they reached the third floor.
"You freshen up first." Nagesh pointed towards the towel hanging from one of the posters of the bed.
"Yes, I think so…would you mind leaving for 5 minutes?"
Nagesh moved towards the door and just when he opened it to move outside, he jerked and came inside and locked the room.
Shreya smelled something fishy. And she eyed him with suspicion.
The moment she attempted to utter a word, Nagesh came close to her and unbuttoned himself. Shreya couldn't speak a word.
With his shirtless body he then hugged Shreya and started weeping silently.
"What happened Nagesh?" Shreya grew worried.
"So many months I have waited for you…even when you were there in front of me I couldn't recognise you. I have kept all of that you have written to me over those mails" and he ran to get his laptop to show her the letters he had saved.
Shreya caressed his head and took his face in the cup of her hands. Slowly she brought him closer and touched his lips with hers. It tasted like raspberry. He held her by her hair and moved his other hand upwards below her top. She played by curling her fingers around the hair on his chest and gradually ecstasy lost all bounds.
Every night was then a night of passion. There were twists and turns…Rocking of the bed—left and right. Kisses, rains, swaying and swashing of the coconut trees at the backyard singing hymns to their love making.
Days were spent eating around at Flurrys, making serpentine queues at Kalighat, walking around Eden gardens and evening strolls at Victoria.
Finally the day came. She had to leave today. The airport seemed jam-packed. Shreya insisted that Nagesh leave early as Barrackpore is too far from the airport. After repeated insisting, Nagesh had no choice. He left. And She towards the security check counter.
Suddenly an sms beeped,
"I am feeling as if I am chocked, can't live without you. Nagesh"
Shreya felt all her reflexes giving away.  Tears fell in a way that perhaps would have never stopped. She felt embarrassed and therefore took a seat at one of the corners. One gentleman approached her and asked if she needed help but she found him quite irritating and shooed him away.
The Flight took longer than eternity.
*
For the next three days everything went gloomy. They conversed regularly yet the physical sense of presence was missing and that kept haunting her.
One day Smriti her friend called  her up asking for advice to win back her lost love. Shreya happily gave the example of her and Nagesh and asked her to be patient.
That night she told Nagesh about it.
Nagesh sounded gloomy and dull over the phone.
"What happened Nagesh? Is everything alright?"
"See Shreya, you cannot keep giving our example to each and everyone. Our relationship is just in the germinating stage. I don't even know if I will go forward with it. I am trying hard to love you, you see…"
Shreya felt like vomiting boiling water and slash her wrists,
"You Bast**d, you sleep with me for 5 nights and now when you are content you don't need me anymore. What do you mean by trying to love you? Am I some kind of an experiment or some kind of a guinea pig that you will use to determine your success or failure?"
Saying this she kept the receiver down.
It was tormenting for her. She believed and what she got was the reward of her belief.
She thought, perhaps it's better to be un-loved.
After 5 days of spending alone in the room with nothing but chocolates, T.V. and sad music, one morning she opened her window and slowly removed the curtains.
It was 8am then. Avinash sikdar was getting ready, balancing his broken vespa. Shreya looked at his centaurion legs and then up towards his chest. He was wearing a tight t-shirt with muscles cutting into its elasticity. His face had the innocence of an infant and his hair always un-combed gave him the appearance of teenage football player.
Shreya kept looking, now tears streaming down.
She wanted love. She wanted it desperately…Never knowing that,
Desperation can be the worst of all reasons to fall in love.
__END__