[Short story love "Fatal Attractions" is selected for Love'2012 Story Writing Competition]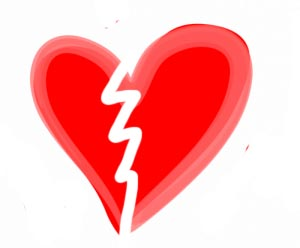 He was impatiently waiting for his turn. The queue was long. At last, when his chance came a girl pushed him and took his place! The girl seemed arrogant so he just stood fuming. She turned around and he forgot about the painting. She was just about his age (19 days smaller to be precise) and was like a fairy to him. He was supposed to be unfazed by girlish attractions, but this girl had floored him. Love at first sight. I was six years old at that time.
She towered over him poking him in his chest.
"Who do you think you are? Schwarzenegger!"
I promised never to play with her again.
They were making mud cakes. The girl was creative. She decorated the mud with wild flowers and the boy gulped them down like it was a chocolate cake! My mother did not let me go out to play with her even after I recovered from my upset stomach.
They went out to pick unripe mangoes one summer morning and came back home late in the afternoon. His father reprimanded him for getting late and locked him out. She told him to stay with her, in her house 'forever' as his parents had turned him out. Always a gentleman, I declined politely. Crazy I…
The boy loved white roses. Whenever he gave the girl a white rose, it was instantly returned. His chocolates were returned. He loved the roses too much to throw them away. I still have those roses.
The boy went bonkers whenever he saw her. He tried to gain her attention by doing stunts. He always crashed resulting in a lot of guffaws among the opposite sex. She never laughed. I loved her for that.
He was a possessive lover. He hated it when any other guy talked with or about her. He picked many a fights for her. He hated her discussing about any other boy with him. Goodness gracious! I really was in love with the girl next door. Love thy Neighbor…
When he first came to know that she also liked him. He went blitzkrieg and gave her his first love rose. She gave it to the painter. I still haven't forgiven that painter to have been born on that very day…
It was on New Year's Eve that she gave him a present. I still have that greeting tucked away inside my chronicles.
It broke his heart to know that she would be going away. He cried like a child the day she left. He felt betrayed. My mother scolded me later for not being present at the time that her family left.
He didn't have her snap. He didn't need it. She haunted his thoughts more than he could envisage. To be blunt, I stopped watching dreams which didn't have her.
At first, she sounded flabbergasted that he had remembered her birth day. She realized later that she had called him up nineteen days back to wish him. I still remember her maxim…" jyada acting karne ki koi jaroorat nahin hai…" I treasured her words.
It was the night of 31st of December ,2006, when he decided to tell her about his feelings:
The clock on the wall struck 12:00 and as the world around me went up in revelry, I grabbed my cell. BSNL was screaming 'Bhai Saab Nahi Lagega', Reliance was trying to act too SMART and Airtel was showing its empty balance. Frustrations mounted as the problems continued. The last resort… the landline!
At 12:25 the call went through and boy I was praying like anything for her mobile to stay switched on!
"Hello!".
The same sultry voice!
"Hiya! Happy New Year…".
"Same to you. Know I was thinking about you now. I was going to call you."
Where do I start…
"See, I wanna tell you something…something important…"
"Yes!"
Help me Cupid!
"I love you!"
Silence! You wouldn't even hear a pin dropping as the pressure mounted.
"!!@@##**#@*@*!*!! You f@**#*…
"I just want your approval!".
"Sorry! I am not the one who decides this. I have my parents and my dad will shoot us if he gets to know this…".
"This isn't my decision! Please, don't make me upset…".
Huh! So early! Already decided!
"Okay! I'm sorry…"
The goddamn battery's running out! Stupid cordless!
"Okay I'll ring back later…".
She's isn't interested…
"Bye."
His heart was broken. 'The Heart Break Kid's' heart was put in the mixer-grinder by a girl he had loved since she had braces in her teeth and had a flat chest.
__END__