[Steffi, will you marry me?- Short Story Love]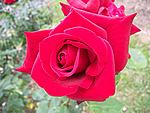 I am stunned. I never thought my best friend, my childhood best friend, my dream, my pride, my emotion, my life, my heart, my love, my sole purpose of existence will ever do it to me. I could not control my tears… my two years impounded self-imposed masculine serenity finally exploded… it is so embarrassing… among thousands of people, live on millions of television screens… a thirty year old fully grown six feet two inch tall guy, unshaven for a week, in torn jeans and almost stinking polo t-shirt, with riverlets springing out of red and drunken eyes… has no place to hide himself… my legs are trembling… I am unable to see anything… giddiness is taking over my already lost consciousness… oh my…
Fourteen years back, when we, not even legally "adult", were watching Wimbledon, someone shouted, "Steffi, will you marry me?" An immediate but not-so-well-liked-by-me reply came from blushed and sweated face, "How much money do you have?" After thundering laughter came to a pause, I held her left hand, leaned towards right, closer to her ears and softly asked, "What would be your answer my little champ when I shall do the same?" She giggled, "You just heard the answer…" my fast changing expressions went unnoticed in her excitement as her inspiration Steffi Graph just lost the set to Kimiko Date.
A week back I received a government letter. It was legal notice. My training centre would be auctioned very soon. From where would I bring fifty thousand pound sterling? My bed ridden aunt had already warned me not to use it as collateral. It was my father's dream to produce many successful tennis stars from this centre. Once again, against my self-obligated-morality, I tried contacting her. But her manager answered guilefully, "She will call you back… Sir… Yes Sir… I conveyed your last message to her… OK Sir" then "Thud"!
Why I did that? I knew it already. There had been similar response since she was ranked in top 10. Every time the "Thud" resounded her giggling, "You just heard the answer…" You simply cannot just intrude into someone dream, I thought. But she did in mine. In fact she became my dream, the only purpose of my not-so-important-life.
There was fresh copy of evening daily highlighting generous donation by her. It was hundred thousand pounds to an orphanage. In photo she was smiling along with delegates from ministry of welfare. First time in my life, I did not smile back on her sparkling smile. "At least I have accomplished dad's dream; Here goes one star from this centre…", I sighed and resorted to my new friend of loneliness, my favourite single malt whiskey. I had just two more bottles left as my sole property.
I still remembered that day. I was six years old, very scared, desperate to see my superman Dad to come and save my cancer ailing mother. She later died gazing half opened door for her beloved who arrived with victory shield only half-an-hour late in Royal Marsden Hospital. These thirty minutes pulverised thirty years of hard work of my dad. He never ever saw his trophies and medals again. He tried living for me but no longer could. Doctor told my aunt that Dad's kidneys were rotten due to excessive drinking. He did not leave fortune but few racquets, used balls, old shoes, two nets and many accolades that always inspired me to become like him — the superman.
I could not become superman like my dad but at least I could turn my love in to superstar. Two years back, in summer we realized that to bring her talents at international level, we needed an expert coach. And the cost was fifty odd thousand pounds well beyond our capacity together. She strongly protested; she was quite happy with me practicing late evening on this endearing little platform; she liked teasing me, hurting my manly chauvinism after I used to lose practice match despite my full effort to show tennis skill I inherited from my father. But that day, I listened to me — only me, as usually I do. I paid the money as honourandum to American coach for his expert coaching to a poor, orphan, talented girl.
Yesterday I received a post from her manager. I blamed myself for doubting my love. How could I ever think otherwise? She was my best friend, my childhood best friend, my dream, my pride, my emotion, my life, my heart, my love, my sole purpose of existence. How could I ever think that she was ignoring me? I almost tore it open in great anticipation. But it was a pass for VVIP gallery — for her first grand slam title — just a pass for a mere game. I first trashed it then last moment thought to show, through my eyes, to my dad — his dream coming true. I was sure she noticed me sitting just a row above her retiring chair but I think she was too busy in making history — her grand success.
Today after winning the grand title, during award ceremony, before receiving coveted shield, first thing she shouted in microphone… amidst thousands of her followers in stadium, live on millions of television screens… to a thirty year old fully grown six feet two inch tall guy, unshaven for a week, in torn jeans and almost stinking polo t-shirt…
"Rudi, will you marry me?"
Her emotion laden, breaking but clear announcement, making its way, cutting through loudest ever applaud from many thousands, stroked again my already deafened ears,
"Rudi, my only dream… where are you… I am waiting for your reply… you male chauvinist? I tortured myself… keeping away from you… to accomplish your dream… this day… now could you please accomplish my wildest ever dream… before I receive this title for you?"
__END__