[Short Story Unusual Love – Do Not Kill My Love: Psychological Thriller]
[This short story love is selected for Love'2012 Story Writing Competition]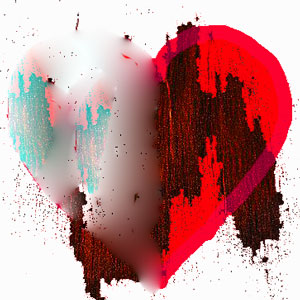 Today, Few minutes before midnight:
"Kill him now. NOW or NEVER!!! … the only reparation of your ruined life" with these continuously resonating words in her mind, innocent looking Maria picked up the chopper from the kitchen platform and started creeping towards the bedroom where Alex, the wild horse, was sleeping naked after having a violently exhaustive sex with her, just few minutes ago.
Her eyes were now gory due to extremely high blood pressure caused by excess of ultimate rage coming from somewhere deep in her past…
***
Eight years ago:
Susane was very happy. She entered in a new year of the golden seven years of life – the teen years. It was her sixteenth birthday. Mark DuPont, the most discussed guy in her school, gifted her ultimate gift – the first kiss of her life. It was so musical that she closed her eyes to visualize seven colors of rainbow in already turned dull and white surrounding because of heavy snowfall. She tightened her grip on his long hair forcing him to further increase the amount of the love taste she was getting, and slowly raised her left leg backward bending just from her knee without moving the portion above that joint to her groin. Her legs started trembling…
She knew that she was not the only one Mark was dating. But she never minded it. She always attracted towards muscular men, and finally that day she got one – the Casanova of her school. While Mark fingers were busy to unwrap the return gift through the straps of the black satin lingerie she wore just for this special day – her first date, she could feel Maria the nun with the innocent looking pale face came between them and pushed Mark so heavily away from the unquenched desire that he rolled down through the steps hitting directly his head on the hard marble landing of the old church. Susane could hardly see the profoundly bleeding face of Mark while running back to her house.
After that day, Mark never looked at her, never ever. The story spread in whole town from one guy to another, in few cases through their girlfriends, and since then Susane was forced to continue practicing celibacy while rubbing her fingers on her fiery desire in unsuccessful attempts to douse her sweltering nymphomania.
***
Today Evening – Five hours ago:
Susane finally tamed a wild horse – Alex who she met in Club Venus. Today was Susane's successful attempt to enter in the club. It had been too difficult to avoid the intruding eyes of Maria the nun to reach the club walking through the street of the convent behind the church.
Alex was an inborn "entertainer". He knew precisely how to blister the love heat in his lady admirers. His well choreographed moves were heart-throbbing. She herself could not control her impounded womanly desire – not for even a minute within his performance started. By the time thirty minute performance got over the count of her peak satisfactions was more than half a dozen times. She was feeling little exhausted…
But the drizzling was not sufficient for the barren desert burning for the last eleven years.
***
Eleven years ago:
It was her thirteenth Birthday. She was sleeping dreaming about Mark… the prince of her dream… riding on a white horse… flying back to their house in the seventh sky… She was totally unaware of the intention of her step father who was approaching to her bed…
Her nurse mother had left to hospital around half an hour ago to attend an emergency, leaving them alone…
***
Today Evening – An hour ago:
Susane was happy with the deal – just two hundred dollar for one night. Thinking of the wild horse riding her was bringing tickling deep inside her. It was late evening. Maria the nun would have slept. None would today stop her to quench her never fulfilled sweltering desire.
"Alex has bigger muscle than Mark's" she thought rubbing her left hand on the thigh of the stripper. They were sitting at the backseat of a taxi heading to her house.
They entered her two room apartment.
"There is something wrong…" Alex murmured but could not think any further; the Gothic interior of the apartment and the splendid curvaceous body of Susane were more toxic than the last shot he took in the taxi. His mind was flying and bouncing on the thick layers of spongy clouds painted in various colors. His grip on Susane's lower back became tighter.
"It is my first time, but don't be gentle, don't stop even if I beg… tear me… rape me" whispered Susane as she chewed his earlobe in the excessive excitement.
Maria the nun tried again pushing away Alex the Satan. She yelled, "Please let me go. Don't spoil me. I am a little doll of my mom. Please dad, mom would return anytime. Leave me!" as she cried loudly.
But the Satan had already a go signal from Susane. He locked Maria's lips by his own, cuffed her both wrists by his left hand and continued attacking her with his right hand and both legs. In a feeble attempt, Maria tried to take her waist out under his weight but a plunger came forward with full thrust to tear her dream again, as it happened eleven years ago, on her thirteenth Birthday.
Susane found herself helpless again, it was too close. She was just on the gate of the heavenly pleasure but Maria the nun, the powerful witch, splashed her dream again, taking over her.
***
Today, Few minutes before midnight:
"Kill him now. NOW or NEVER!!! … the only reparation of your ruined life" with these continuously resonating words in her mind, innocent looking Maria picked up the chopper from the kitchen platform and started creeping towards the bedroom where Alex, the Satan, was sleeping naked after having raped her chastity, just few minutes ago.
Suddenly she heard a feeble and frightened voice of Susane.
"Maria, Please. Please Maria. Do not kill him. He didn't rape you. He simply tried to love me the way I wanted but you took over, because you too wanted this, first by conceiving me and then by taking over me, your own creation. By now I know we can't go together, because it's you. I am just the alter. But you being powerful and owner of this body do not mean that you impose your past on me. You opted to be divine, not me. I want to see the color of love, listen the music of cupid, feel the taste… taste of the orgasm. You can't enjoy the love, the earthly love, by yourself; so you used me. But please, let me live it to the utmost possible swing."
Maria was shocked. She knew that Susane was right. First time she could clearly see Susane, her alter ego, in the side mirror. She was imprisoned, yelling to be freed, to enjoy the love. Tears were exuding, falling through her rosy cheeks.
The divinity took over again. It was time to sacrifice the most valuable belonging, her own existence. Chopper fell from her hand. She brought Susane out from the mirror and hugged her tightly, for the first and last time she felt herself, the original of herself. It was now time to surrender the body and the soul to her better-self, for herself, forever.
Susane happily looked at sleeping Alex as Maria diffused through the window of the bedroom and disappeared in the dark street of the convent.
__
Postscript: Multiple Personality Disorder is a psychiatric diagnosis and describes a condition in which a person displays multiple distinct identities (known as alters or parts), each with its own pattern of perceiving and interacting with the environment. This disorder is theoretically linked with the interaction of overwhelming stress, traumatic antecedents, insufficient childhood nurturing and the innate ability of children in general to dissociate memories or experiences from consciousness. A high percentage of patients report child abuse others report an early loss, serious medical illness or other traumatic events. Source:
https://en.wikipedia.org/wiki/Dissociative_identity_disorder
__END__