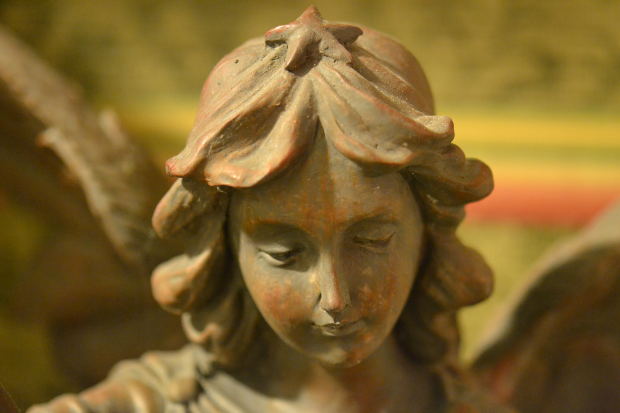 A man in his early 60's with half rimmed spectacles was reading the early morning paper in his home in Ranchi. He was none other than Jai Prakash Ghosh. Jai Prakash house was not the huge one. A two storey building with an adjacent garden and his  studio nothing to brag of. He kept it in good humour. He never kept any coins in his house.He always said "I  am a stoneman who only curves stones;I will not be able to chip at bronze".
As the bell rings and his deaf and dumb servant comes in to serve his morning tea; lets look at Jai Prakash Ghosh from a distance.
Jai Prakash Ghosh is an eminent sculptor of modern India. He is known to all to be the "Mile Stone" of Modern era. Lately, he has been nominated to be presented for his  carving "The Leaf of Heaven"  at the American Arts and Letters Medal. Mr Ghosh work is a product of much thought but presented in a uniform minimalistic design. A busy carver for life he must be; he lifts his head at the stroke of the tea plate and utters "Bhoothnath how many times did  I tell you when you are standing in front of the refrigerator to eat if you are hungry."
Bhoothnath smiled back, he did not understand a single thing what was told to him. He just knew that Jai Prakash was hungry. He  nodded his head ,turned around and went to the kitchen to prepare the usual breakfast for the morning. Jai Prakash Ghosh was a happy man. His daughter Bimla lived happily in a railway quarter along with her family. His grandson Guddu had just started going to school. His wife Anita had left for the heavenly abode 7 years back so he could get up early morning and do some late work even at night. Jai Prakash was survived by his servant whom he called a friend "Bhootnath". His daughter Bimla used to meet him once week and do the medical and worried checkups everyone does to fulfill their desire of being tensed. Jai Prakash normally frowned at her whenever she would come in.
"Now the frowning Bush comes in   with her proposals"; she cared less what he said. After much pestering Jai Prakash would calmly say "I am not interested so much in what I do with my hands or words as what I do with my heart. I want to live from the inside out not the outside in."
It was truly hard for anyone not to find that the sculptors body was getting debilitated but no one knew what he was working on at present. His pursuit for simplicity in his work was so boring that many could not find out the reason for weakness. Jai Prakash had been working on something very secretive and none knew of the arcanum  of his present work which he was working on day and nights relentlessly. No one but Bhootnath.
So who was Bhootnath. As the name suggest a premeditated attempt by the Bengali identity to give a child a ghostly and a rave identity among his peers. But Bhoothnath was never his real name.  His name means "Hawk" in his language of Singhbhum . Yet even with the acuity of vision the moniker suggests, Bhoothnath  could not have foreseen the tragedy that befell his people, the Majo tribe of Paschimi Singhbhum. He could never have imagined the day that he would have to flee for his life far into the rainforest, a shotgun pellet burning in his back, his family mown down by gunmen,self appointed miners of the British regime. Nor could he have known that this brutal day would be the first in a decade of solitude and silence. His tears could not run with the deers and the squails to the flying migratory birds  as he was left lone until he was discovered by the sculptor looking for a special ore of bauxite in the forest. From that day Bhoothnath remained with Jai Prakash as a friend.
As per schedule the sculptor goes to his work of churning the stone. He would work in his studio from 10 am in the morning to 2pm noon and then take a nap and go to work again. No one was allowed to enter his place except Bhoothnath.
Work has continued religiously for days and days. Jai Prakash has been tied to his work like no one does .He even stopped taking his usual walk around the ghats of the river and was unabashed when he went to sleep against the stone he was curving against. The stone was  pure bauxite, that all the world knew.What we knew is that he was carving a face a  bauxite sculpture as  one of the finest detailed figurines ever to be found in the whole of India.
But while carving his eyes remain blindfolded. He wanted his senses and his experiences to make the figure. He has been reading on the Vedanta; one of six orthodox philosophical systems or viewpoints rooted in the Upanishads as opposed to Mimamsa which relies on the Vedas and Brahmanas. But his readings were drawn as a sculptor and that was bothering him .Every time he placed his hand on the  chisel ,the stroke of the Jai Prakash was not the same as he reached the eye socket carvings. He needed to give the stone eyes to see. A face he had curved blindfolded .But to give eyes to the dormant stone he had to do his best work. He just said to himself It just cannot be :Is there a way of seeing that does not need eyes ? Is there a way of touching that does not need hands ? Is there a way of survival without being worked up about it."It seemed nothing could quench his thirst and only the stone would break open to let the fresh waters flow in his heart.
And then it happened, early morning that day Bimla had come with his son Guddu as it had rained all night and knowing her  fathers intransigent personality against all rational tendencies she had to check in.
As she knocked at the door she could see no one. She shouted calling her father "Baba" .She went near the studio where  she could hear not stertorous respirations or the unmistaken stridor of her father while at work. She knew something was wrong. She pressed hard at the door. The latch gave in. Inside she found her father sleeping. Bhoothnath was nowhere to be found. The sculptor was lying in deep sleep in front a white alabaster sculptor stand and the real piece was gone. The bauxite bejeweled was the last thing Bhootnath would have stolen.
Says who?, Bhoothnath belonged to the same group of tribals who fought against the first miners of bauxite in Singhbhum and his fight would not have ended by killing the man he lived with for so many days. Bimla did not have time to think all this. She had lost someone who had bought her up all this years. If only the eyes could see what had happened last night .If only she could get in the mind  of his father and what was he doing all this days.
She was suddenly diverted from her thoughts as rain started pouring in creating the hum on the parched leaves. She had to call someone. She just told Guddu to stay near Dadu as this was the last time they would see him any more. The toddler kept looking at the dead body  knowing not what to say. He was lonely. He called out "ma". The toddler tears falling on the clenched fist of his grandfather and then soaking in the tunnel knowing not which path to follow. He needed a way out. The mind lives in what it sees. The imagery of the picturing what size container can hold the fear ,or of describing where in the body the fear is located are effective because they are ways of putting agitation into the context of stillness ,of putting the lesser into the greater. If only the eyes of the sculptor  could see the sculptor in the stone.