Kedarnath Yatra: Our celestial journey – Haridwar to Gangotri to Gaurikund
[Part1: Inspiration and Planning]
Now the day came. We started our journey from Bangalore on Friday evening. Our flight landed in Delhi in midnight. We stayed few hours in my Brother-in-law house and then went to Railway station in morning to catch Sadbhavana Express train to Roorkee. We reached Roorkee, to my brother house, at 10 AM on Saturday. That day we relaxed in his house. He arranged a driver also. Thanks to god I accepted his proposal after strong recommendation, almost order, from my brother and Amalendu. Initially I was insisting to drive myself arguing and citing my safe and heavenly experience of driving at hills of Switzerland. Please do not do it until you have driven it on rough roads of Himalaya. It is quite dangerous.
We left my brother house in Roorkee in Saturday morning 8 AM. First we went to Haridwar. We bathed in holy Hari-ji-Ki-Paudi and started our journey to Himalaya. We decided as per recommendation from my brother to drive as Haridwar – Uttarkashi (night stay) – Gangotri – Uttarkashi (night stay) – Gaurikund(night stay) – Kedarnath (by walk, night stay) – Vasuki Tal – Kedarnath(night stay) – Triyugi Narayan (night stay) – Rishikesh(night stay) – Roam around Rishikesh and then back to Dehradun to cath train in night for Lucknow (Amalendu was going to Lucknow) and for Delhi (I had flight back to Bangalore from Delhi). In Haridwar we stuck in a traffic jam. By the time we left Haridwar city it was around 12 noon.
(Photo: Haridwar)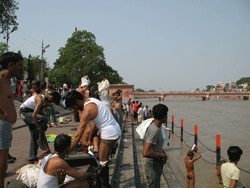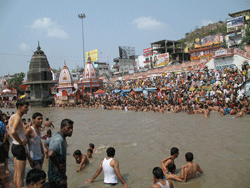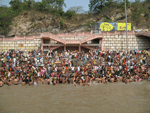 Our driver got confused between Yamunotri and Gangotri and went to first Masoori and started following way to Yamunotri through Kempty fall. It was our first day. We already decided that unlike our regular planned approached, we would no panic if it does not turn around as per plan. We had only two destinations as must — Kedarnath and Triyugi Narayan. Rest would be just "sit, relax and enjoy the beauty of Himalaya". Slowly we climbed up a lot (I do not know how much but it was scary for sure). It was misty and slowly darkness started. Thrill started converting in anxiety and then in fear. We realized we are going wrong but agreed that it would be even ok if we reach Yamunotri. Around 8:30 PM much before Hanuman Math, we were stopped at police check post. We were not allowed to go further in night. After 5 – 10 minutes of panic state, we started acting and found a room in lodge. It was ordinary — quite ordinary — but neat and clean (I guess 400 rupees per night). We ate in a small Dhaba — food was too delicious. It was simple, healthy and tasty. No more venture and we went to bed.
Next day, on Sunday, we came to know that the place was Brahm Khol. It was looking beautiful in mild sun rise. We checked with locals and they guided our driver to go to Uttarkashi. It was sunny day. At that height we were feeling little cold (but no need for warm-clothes yet). We passed through Nachiketa Valley. (Nachiketa worshiped Lord Yama here). It was unforgettable beauty. We took few snaps en route and reached Uttarkashi. It was around 10 AM I guess. We continued our journey towards Gangotri. Overall it was a nice, pleasant and heavenly experience. You may get glimpse of snow laden hilltops. Some time it was bit scary especially when we were passing through after Bhairo Ghati. Believe me, so steep turns and narrow road one would get that without going to any temple or Dham one will start showing faith in god. You cannot do much here — just believe in god and in your driver.
(Photo: Brahm Khol to Uttarkashi)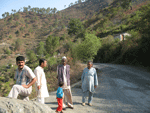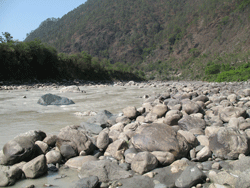 Around 2 PM we reached Gangotri. It was crowded by many vehicles and overall environment was full of exhaust smokes. However when we just walk few meters, we found beautiful Gangotri. Stream of river Mandakini (Ganges or Ganga-maa) was very fast. It was difficult to step in… rule out… you cannot do it. Moreover water was at freezing temperature. You cannot just put your even finger for more than few seconds. We had to take bath. We borrowed Lota (small pot) from a person who took bath from taking water in lota and somehow we just poured 2-3 lota of water for namesake bath. Then we did archana (worship Ganga-maa) and with her permission take holy water in plastic water cans. It took very long to fill 2 small cans as it was almost impossible to fill water in freezing and speeding streams of Ganga-maa. Overall it was refreshing and we decided to drive back to Uttarkashi around 5 PM. We reached outskirt of Uttarkashi around 9-10 PM, checked in a lodge and slept after dinner (needless to say simple, vegetarian and healthy food we had throughout our journey was very delicious).
(Photo: Gangotri)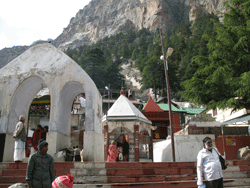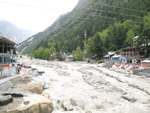 Next destination was Kedarnath, We started early on Monday morning. We travelled along a very big reservoir. Later we found that it was upstream area of Tihari dam. Roads were good. We saw hill area fields (I guess it is called contour fields). We passed through new and old Tihari. Upstream Tihari — old one — is no longer there. It was fully submersed in water. Also we found that stretch not so natural and good. It was tiring mainly because of high temperature and dust. First time we did not like something. It was just another desert. We did not get good feeling of that area. We spoke to few locals who were telling as part of rehabilitation people got good money — much more than property they lost and thus none bothers about these ecological changes. Let's hope that economic advantage of this project overcomes eco damages.
We reached near to Gaurikund — I guess 3 km before (if I remember it was Phata). It was 8 PM and there was huge traffic. Somehow we reached Gauri kund around 9 PM. My god!!! So much rush and noise in such a small place. Furthermore herd of ponies would not leave even small place for human. To add our problem, it was raining. We did not know what to do. Our original plan was shattering. We were not ready for this situation. Traffic police was not allowing stopping anywhere. We asked our driver to just manage parking for few minutes and Amalendu and I jumped in crowd to look for reasonable lodge. Lodges were available but very small, crowded and noisy. You may get so called decent small room in 600 to 700 rupees. But Amalendu was worried about my health. I have asthma and on the way I had to take inhaler puffs near Tihari. He was tensed and worried. I was getting religious and almost forcing him to stay. But finally he did not listened to me and dragged me back to car and ask driver to drive back — near Phata — were there was less crowd and decent lodges. We reached to a decent but crowded lodge and checked in. Room was not so clean but manageable. Owner of lodge was very busy and does not bother about us at all. In room we were welcomed by a reasonably large but unknown creature. By the time owner sent someone get the host out of room it was 11 PM. I was not feeling good and so that Amalendu. He went out for dinner with driver whereas I preferred to rest. Amalendu was trying to convince me to hire pony next day instead walk to Kedarnath whereas he will come by walk. He was really concerned about my health though I was feeling better. Such small breathlessness is part of Asthma. But I guess it was new to Amalendu. Our discussion caused even tension between us that lasted, in one or another form, until we reached Rishikesh. Finally we were tired so we slept… do not know when.