[Kedarnath Yatra – Our celestial journey: Inspiration & Planning]
It was Christmas holiday in 2008. The time was not good for software professionals due to recessionary economy. With full load of tensions and anxieties for coming year we decided to stay at home during the holiday, mainly to save for possible adversity. But it was tough to pass time at home especially when you spend average 60 hrs per week in office and 12-15 hrs per week in busy roads of Bangalore. Obvious choice to come-out from restlessness is to go towards spirituality — search of "truth".
Now changes in lifestyle started — getting up in morning, meditating, listening "bhajans and kirtans", reading religious books, and watching spiritual channels. During a dull afternoon, I found a documentary on national geography channel (do not remember name). It was showing travel from Rishikesh to Kedarnath. I found Triyugi Narayan place shown in documentary quite appealing to spend some time there in solitude. My current situation, catalyzed by this excellent documentary, attracted me strongly for this venture — at least one week in solitude in Himalaya if not life long quest for "truth". But problem was how to bring it in action. Being software professional, working in top MNC, I found it difficult to "just-do-it" without reviewed and approved plan. Moreover we, as family, "sacrificed" year-end holidays due to anxiety at job; therefore even proposing this project in family was a great risk. Finally I left everything on Lord Triyugi Narayan but kept a strong wish to accomplish my small desire.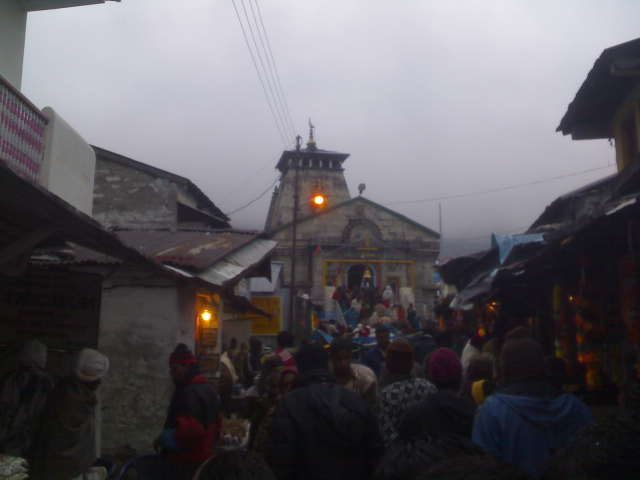 A month later most of my college friends from Bangalore gathered in a Birthday Party. (it was Birthday party of Uma's daughter). My family along with family of my college friend Amalendu were going in single car for this Party. En route, when we really got frustrated from Bangalore traffic I found chance for at least proposing for the project — one week solitude in Himalaya. Thanks to Amalendu; he agreed immediately. To keep our wives quiet we just agreed that lets workout plan in details and not to rush trough; and if plan was ok then we would think. Amalendu is a good planner. He started finding all necessary information. He found that this place is much closed to Kedarnath. Kedarnath is a known place whereas Triyugi Narayan is not so known. Finally we planned for a week added with weekends. This would require only five days leave to get 9 days and the leave would be manageable with advance planning. Family would also make no big ruckus if we go just for a week and we go "together" (so that there would be still some hope that we would come back ;-).
So, plan was fixed. It was scheduled in last week of May 2009. This plan had to align with timing of Kedarnath as Amalendu found that it is open for Darshan only from April until Diwali. We had four months for planning. We both were quite excited and committed to this plan. Despite our decision that we go to this venture like poor students' trip (like our college days), Amalendu booked flight tickets from Bangalore to Delhi and back. He booked AC train tickets for Delhi to Roorkee. My brother stays in Roorkee and he excluded our idea from our plan that we would go by general bus to top of the hills. He told that bus journey would not be good "for us" and suggested to take his car. Although initially I did not agree for this plan, we accepted it when Amalendu told me to listen to elder as he has seen those areas and know far better than us.
We both were thrilled for this journey. It was difficult to wait. Moreover our software minds giving lot of crazy ideas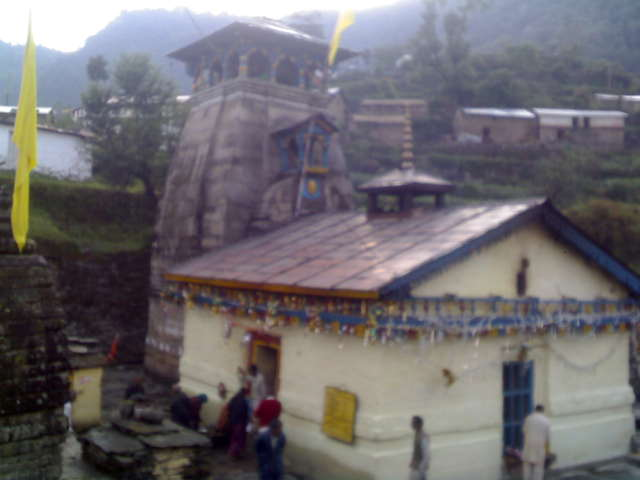 for planning. We decided to build our stamina (so that we can climb up and down to Kedarnath — we heard that it is 14 Kilometre tough climbing from Gaurikund to Kedarnath). We decided to do it in steps — stop vices such as smoking, drinking etc (Note: we do not smoke or drink ;-) — at least until we accomplish our venture. We decided to practice walking 14 kilometres on every Saturday and Sunday just to gauge our readiness. We found total 13-14 weekends for it. Practice route was decided — from Amalendu's house (near Sarakki Signal) to Bannerghatta Road via Konankunte and back to Amalendu's house. We measure this distance by car. Congratulations!!!  it was perfect fourteen Kilometers. We also decided that after 5-6 weekends we shall carry backpack with 10 kilograms of load. We also listed items we should carry and who will carry. I also suggested carrying a pot to boil water and make "maggy". By that time I also started reading blogs and pictures of Kedarnath and was mesmerised by beauty of Alakananda (river that you would be following during your walk from Gaurikund to Kedarnath). I told my idea to Amalendu about preparing Maggy when we take rest en route. Moreover I purchased Swiss knife as well — in case I have to cut wood for fire. (Smile non-IT guys… dude, you can never understand our quest for perfection in every planning).
Now practice started. Every weekend — Saturday and Sunday — early morning at 5:45 AM Amalendu and I were walking 14 kilometres and coming back by 7:30 AM. It was quite exhaustive initially. Once we even hired auto in Konankunte while returning but only once. While going we used to take tea at a stall in Konankunte and while returning take fruit juice on Kanakpura Road. One weekend we even climbed on a small hill just behind my house — "Hanumagiri". Our other friends Ashish, Neeraj and Sandeep came to know about our plan and really appreciated it. However somehow it could not be possible for them. Nonetheless their good wishes and our enthusiasm finally brought us to The Day — a life time experience was just ahead.
[Part2: Haridwar to Gangotri to Gaurikund]