[Kedarnath Yatra – Our celestial journey – The Kedarnath Yatra]
[Part1: Inspiration and Planning]
[Part2: Haridwar to Gangotri to Gaurikund]
On Tuesday early morning, we went to Gaurikund. Asked our driver to park vehicle and be there. We had planned to further go to Vasuki Tal. However back of our mind we just wanted to go to Kedarnath somehow and then decide. We informed our driver to expect us either next day or one day later if we decided for Vasuki Tal. Finally after washing our hands and feet in Gaurikund we started our journey. Amalendu tried hard to hire a pony for me but by now our whole friend circle and family knew our plan especially that we practiced 12-13 weekends for walking – so there was no way to agree. At last Amalendu also agreed and we decided to tackle the situation as and when it would come. (Later we found that there are many Ponies would be available every 10 meters). We started around 10 AM. First impression was disgusting – bad smell, rain, rush, ponies, pony dung. However religious feeling motivated us to carry on. After every 100 meters Amalendu was trying to convince me to hire a pony for myself, but I was strongly refusing.
I started uttering "Om Namah Shivay" loudly and asking crowd also to support me. This gave lot of energy to me. Slowly but steadily we reached midpoint – Rambara. Amalendu and I smiled at each other – Great! Half the battle won – we climbed up 7 kilometres. We ate little take rest and started. Pathway was 6-8 feet wide guarded with iron rod railings. But you will hardly get any space to walk. If you are not alert pony and paalki wala will simply push you a side. However do not get scared – we do not encounter any issue; it was just our initial reactions and slowly we got adjust to it. After 2 more kilometres it was difficult for us to walk. Moreover drizzling was making it tougher. Amalendu and I were kept boosting each other morale. We were insisting other to take rest and not to worry of time. Finally a point came when I told Amalendu that now I need celestial help to go further. Knowing our strong wish and success so far in travelling more than 10 kilometres, he did not insist me hire pony rather he joined me in prayer. We took rest for 10 minutes and chanted "Om Namah Shivay". Then we started. Unbelievable – we were tired enough not to even talk but no pain at all in our legs and thighs. Although our strides and cadences were very short and small but there was no pain. We shouted – "Har Har Mahadev". Amalendu was carrying both the small bags and he allowed me carry just our woollen clothes as that itself seems to be overweight especially when were sweating in cold.
It was a great moment to see milestone that read Kedarnath 1000 meters (now no more scary kilometres). Here is point when Panda (priests) would start asking your place as there is Panda allotted for every area. Finally we met Maharaj Prakash Bajpai who was panda for my home town Ghazipur. He took us to his area and gave us a room. I told that I would like to perform special pooja of my lord Kedarnath in early morning. By now Amalendu was feeling very cold and even 2 blankets were not enough. I was very excited to be so close to Lord Kedarnath. Seeing my excitement, Panda ji offered me to take me for a darshan through entry for pandas. He also suggested booking for the pooja. Moment I saw the temple I felt a strong wave of energy ran into me. I was feeling very fresh now. For pooja I got slot for 2 AM. After booking I did darshan of my swami and returned with lot of heavenly feeling.
(Photo: Swami Kedarnath ji Temple Street)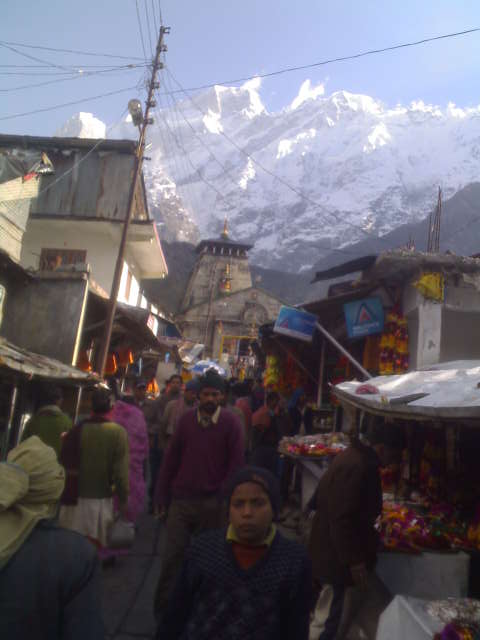 I purchased medicine on the way back for Amalendu and came back to room. Amalendu took medicine and we slept. Around 9 PM Panda ji's man came offered us hot food – wow – taste was extra delicious. He told us to sleep until 2 AM when panda ji would come and will take us to Pooja. Around 1:30 AM Panada ji came and offered us hot water to bath. To be honest, we could not even dare to come out of blanket – it was very cold. Amalendu and I just wash our leg and hand and followed for Pooja. Now Amalendu was also feeling better and after seeing temple he became magically fresh. We performed pooja that went for around an hour and came back to our room. We told Panda ji to let us sleep until we get up by our own.
(Photo: Swami Kedarnath ji Temple, Aadi Guru Sri Sankaracharya Samadhi, and near by houses where we stayed)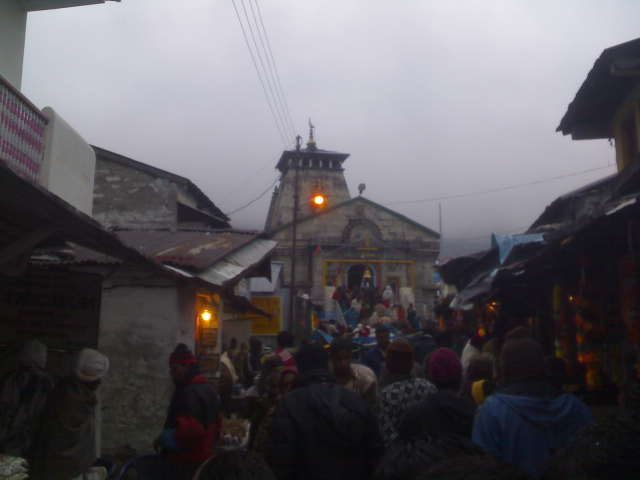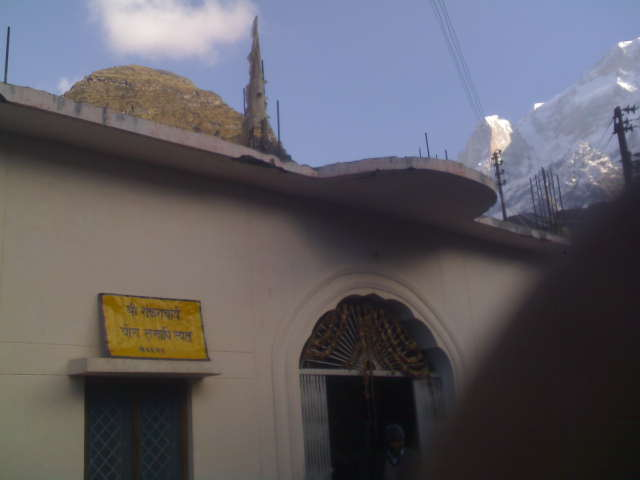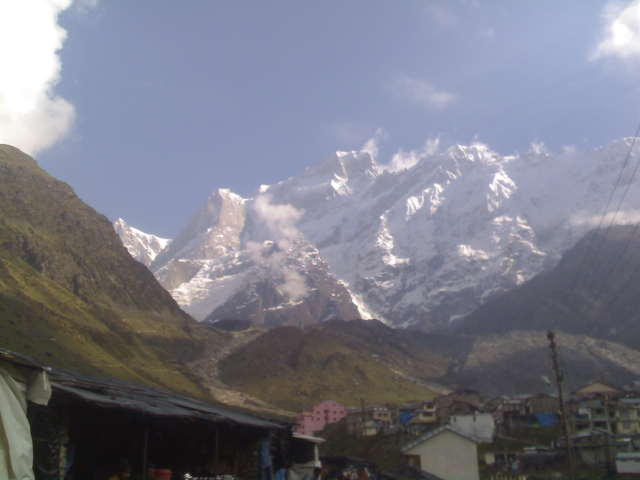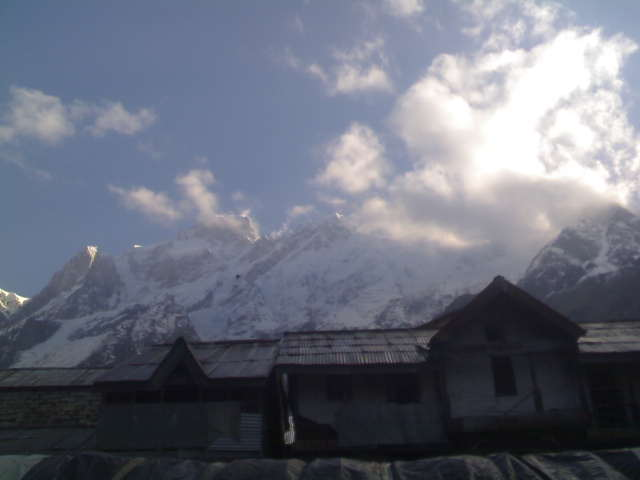 Next day we got up around 8 AM. We inquired from others about Vasuki Tal and came to know that it was further 7 km steep up. Realising that it is business of trend and professional trekkers we decided to return back. We went to Sri Aadi Guru Shankaracharya Samadhi adjacent to Kedarnath temple, had breakfast and started or descending after worshiping swami Kedarnathi ji.
(Photo: Ponies)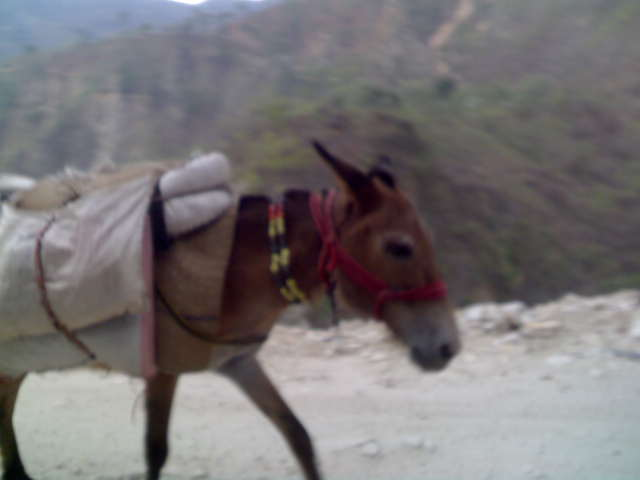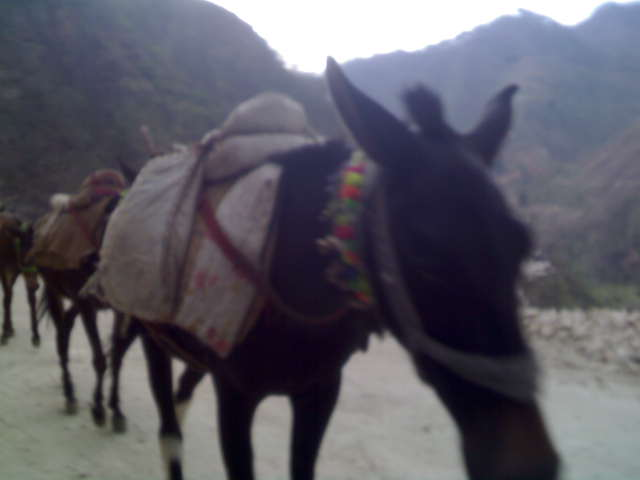 Descend was fast and very smooth for us. Perhaps swami Kedarnath's blessing and effectiveness of our 12-13 weeks of walking practice were evident. We both were very energetic and happy. Now we were enjoying real beauty of Alaknanda river – there was no pain but godly nectar from extraordinary beauty of Himalaya. It took hardly four hour to reach Gaurikund. Ponies and paalki wala were not seemed to be bad at all. All were serving followers of swami Kedarnath ji. Everything was appearing very beautiful; everything was reflecting glory of our Lord. Overall we had great positivity and extraordinary purity in us. We were enjoying natural beauty of Hiamalaya and encouraging up-hill's walkers. Finally in four hours we touched Gaurikund. It was raining heavily and we were completely drenched. We located our car and driver and started for our next destination – our original plan – Triyugi Narayan.
[Continued]